Maintaining focus in business is essential if we are to provide value to our customers and achieve the required financial returns. But the question is what to focus on? I believe it comes down to doing three things well.
First, we need an established strategic direction, which will lead to sustainable, profitable customer value.
Second, we need to have processes that can create, deliver and capture that value; and
Third, we need to constantly learn from our customers about how we are meeting their needs and factoring that information into our process changes.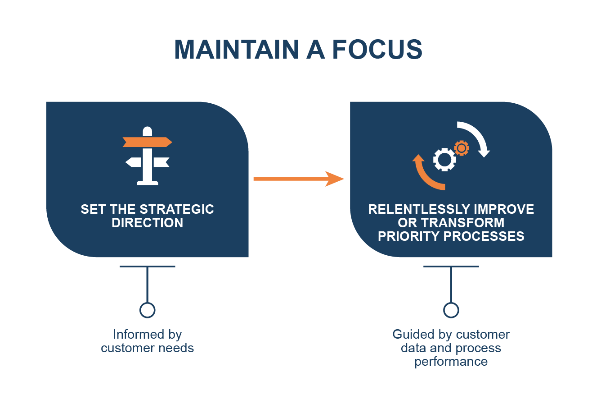 Set the Strategic Direction that will Lead to your Success – Define your business focus
The Strategic Direction determines what to focus on. It describes a road map to generating new or improved customer value. It provides guidance about creating and delivering products and services that customers need and delivered in the manner they want. Its also about establishing a business model which generates sufficient revenues and profits. The strategic direction encompasses the vision for the organization, the foundations or pillars of success, and it articulates what success looks like through the prism of strategic objectives and measures. An example of a strategic framework that accomplishes this is seen below.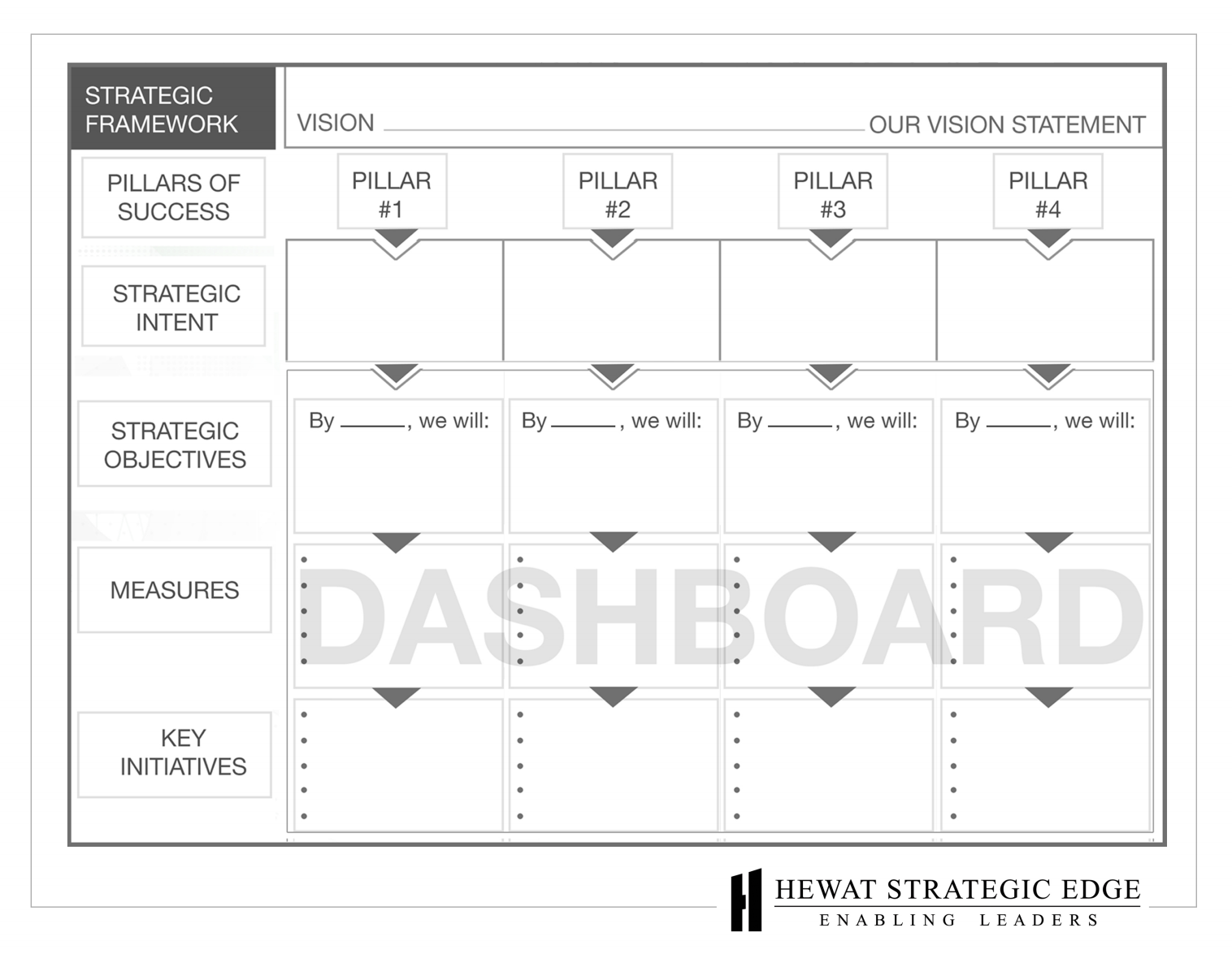 Vision Statement
A brief description of your organization of the future
Pillars of Success
The foundation of your organization's success
Strategic Intent
Clarifies the meaning of each Pillar of Success
Multi-year Objectives
Targets for each Pillar of Success
Measures
– Indicators of achievement- Your dashboard
Key Initiatives
Projects or programs that will drive the achievement of the Strategic Objectives
Fix the Vital Processes
Virtually everything that is done to execute the strategic direction can be viewed through the lens of processes.
Discover our Facilitated Programs
The entire business is comprised of a multitude of processes that help us communicate with customers, create products and services, deliver value, and capture sufficient revenues to achieve financial viability. Some of the processes are "internal" and others are "external", which simply reflects whether they are interacting directly with the external customer or not.
It is essential to improve or transform processes, to enable the business to succeed. But the challenge is to focus on the right processes – the one's that are vital to our success.
As we set in motion process improvements or transformations, it is critical to establish expected metrics for the new or improved processes. If we have focussed on the right processes and have correctly set the measures, then a relentless review of progress in line with the data, will help move the business towards the expected results.
Constant Learning from Customers
Fundamental to the setting of the strategic direction and its subsequent execution through improved processes is learning from our customers. Today it is more important than ever. It needs to be a facet of all aspects of the business – designing, creating and delivering products and services; as well as post-sale engagement.
Every day we experience new ways of being consumers, whether by shopping on-line, reviewing alternative sources of providers through social media, paying with mobile payment systems, or using sharing services through the likes of Uber and Airbnb. Each of these customer experiences offer immediacy, ease of doing and flexibility in meeting consumer needs.
Our businesses may not be in competition with companies providing these services. In fact, our businesses may be dealing exclusively with B to B transactions. Nevertheless, our customers are more informed than ever about the range of potential customer relationships. The digital era has expanded exponentially the experiences that customers can expect and the value they require.
It would do us well to set strategy and execute improvements while considering the need for immediacy, ease of doing and flexibility in meeting consumer needs. If we don't, a competitor might blindside us by doing it.
Maintaining a business focus is about setting a clear strategic direction and executing it through rigorous process changes, which are guided by customer feedback and process measures.