Business Action Plans are like the meat in a sandwich. They provide the content between strategic and operational planning. A Business Action Plan can cut across a company, division or department.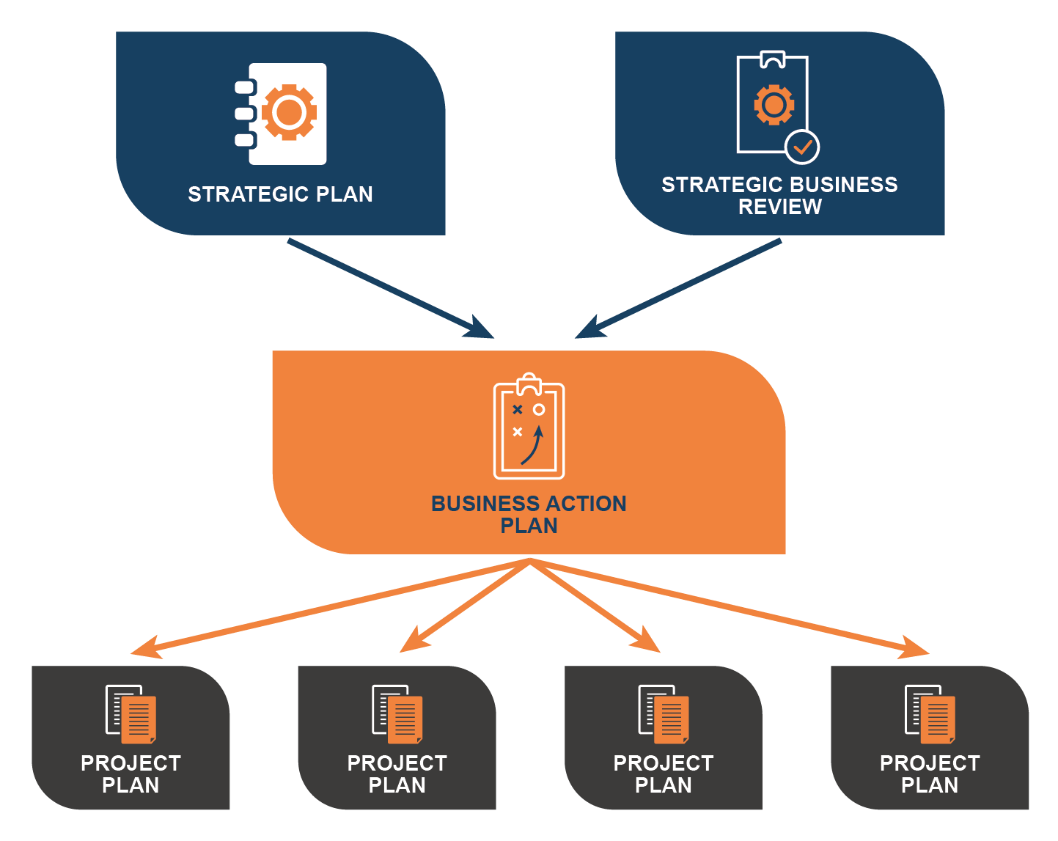 A Business Action Plan could be derived from either:
Discover our Facilitated Programs
Typically, a Multi-Year Strategic Plan will include Strategic Objectives that are aligned to specific themes or pillars of success. It may also include the identification of Key Initiatives, which are programs or projects that will be implemented in the medium term.
The Business Action plan describes in greater detail the approach to mounting a series of projects or programs during the coming year, which are essential to the long-term success of the organization's strategic Plan.
Alternatively, you may have undertaken a rigorous examination of your business model, which we would call a Strategic Business Review. The review might have addressed issues that include:
The value we need to bring to our customers
The relationships customers expect
Channels our customers can be reached.
Contributions to revenue streams by bundles of products and services
The current and future capacity to create, deliver and capture value through Key Partners, Key Resources and Key Activities; and
Our cost structure and the implications for profitability
The review might have identified a host of issues, but the Business Action Plan identifies the most critical issues that need to be addressed in the coming year. It is a priority-based plan. Consequently, everything that is in a strategic plan will not make it into this document. Similarly, only the priority issues – burning platforms that might have been identified in a Strategic Business Review will make it into this document. Urgency and importance are the underlying qualifiers.
The planning hierarchy might look like the following from the perspective of height: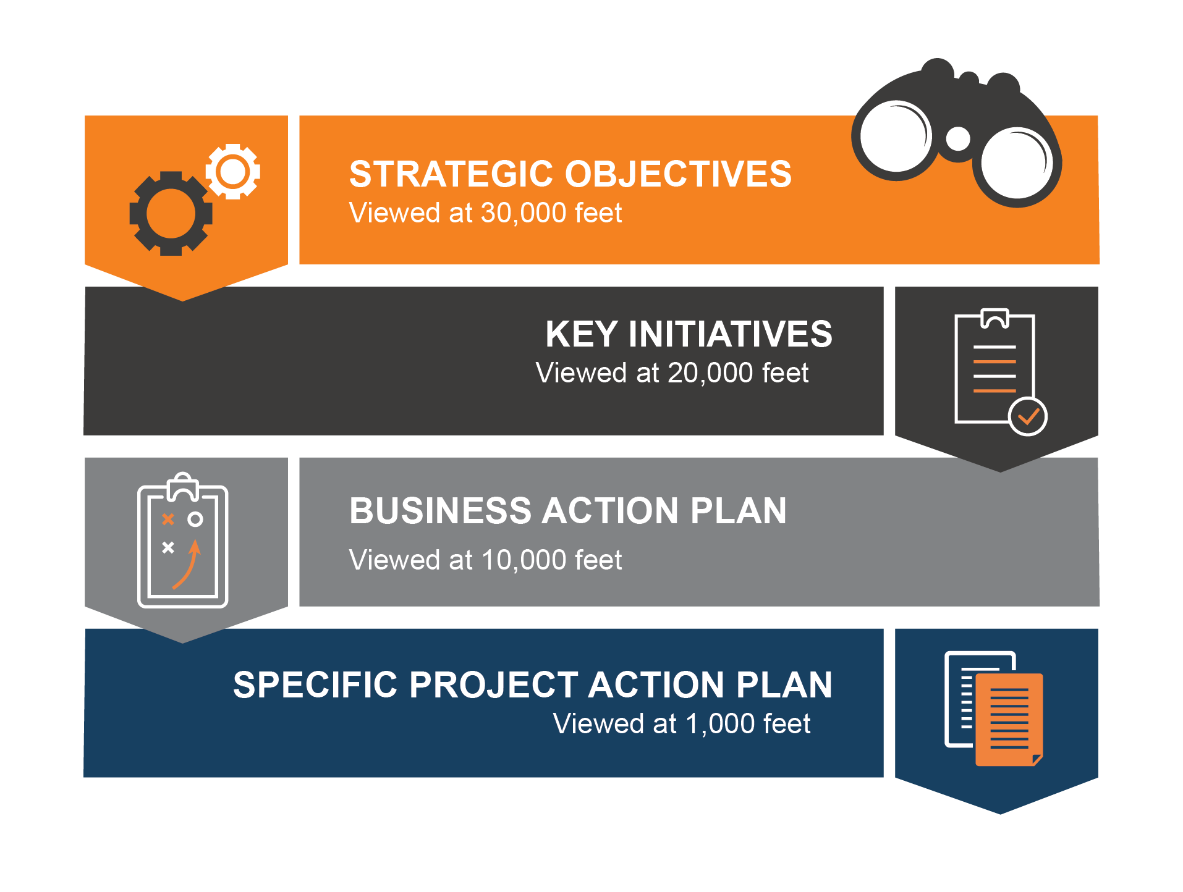 Regardless of the impetus to create a Business Action Plan, it should provide sufficient information to facilitate the chartering of teams to implement the plan. The Business Action Plan should not be a large narrative document. It can simply be a set of tables that provide the following information:
Business Action Plan Outline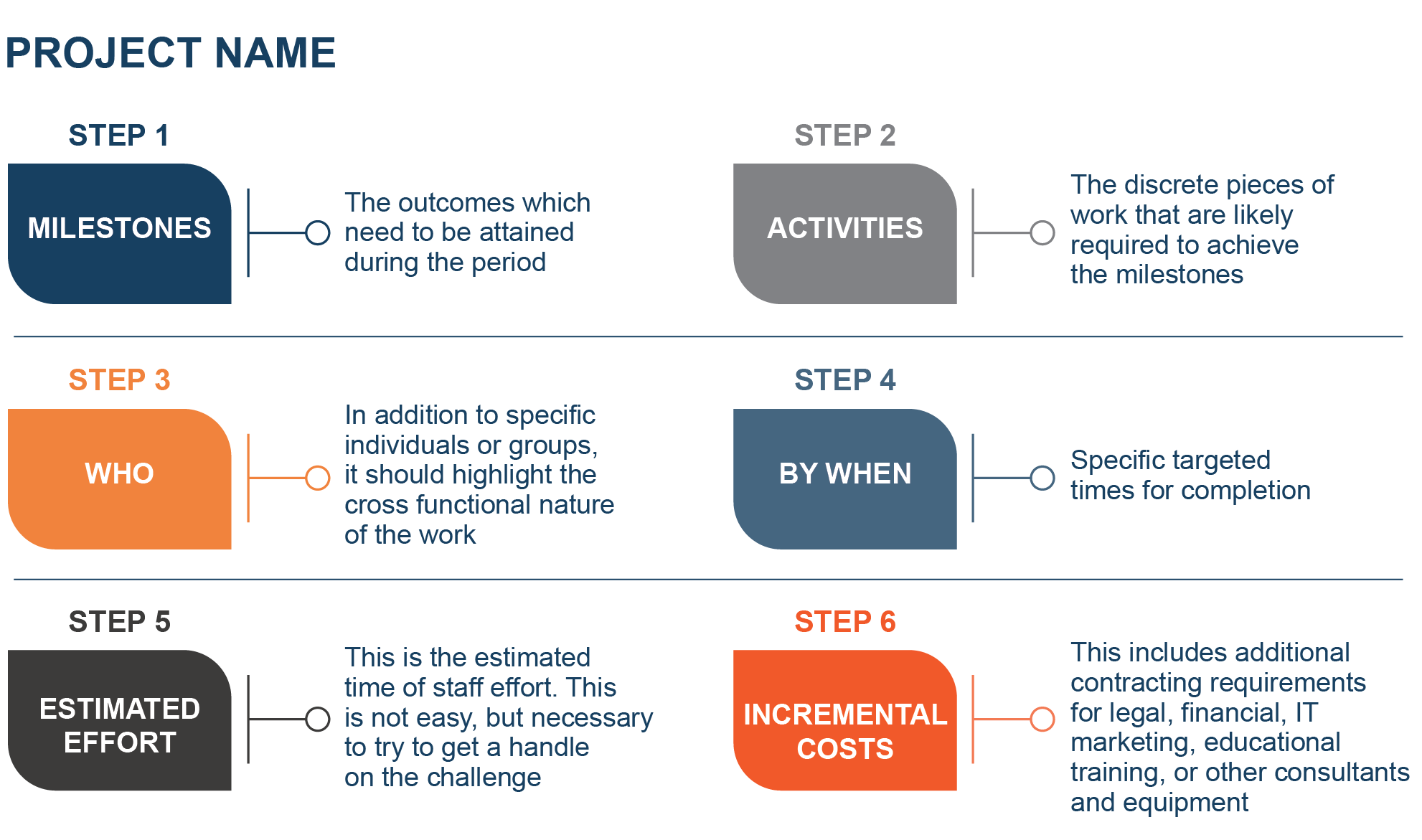 The Business Action Plan enables the creation of teams to implement these initiatives. The teams can be expected to:
Collect and Analyse Data
Clarify the problem(s)
Generate ideas
Identify the breakthrough solutions; and
Implement improved business solutions
If we have a strategic plan, why not just proceed to specific project plans? The Business Action Plan requires the leadership team to set priorities and to develop a sufficient level of understanding about the required changes and the likely challenges in achieving them. Without chunking the multi-year plan into annual segments, it is easy for an organization to drift into siloed work initiatives, with limited strategic focus.
The Business Action Plan is the leadership team's tool to manage the business's operational energies in a manner that ensures they are aligned to the strategic imperatives of the organization.