As a first step within a strategic planning process, it is important to recognize that the nature of the competitive forces within our industry will determine the relative scope for growth and profitability. Understanding the dynamics of these forces will help us to assess the potential for new opportunities and begin to differentiate ourselves from others.

I like to use the "Five Forces Model", developed by Michael Porter to review the situation in our industry.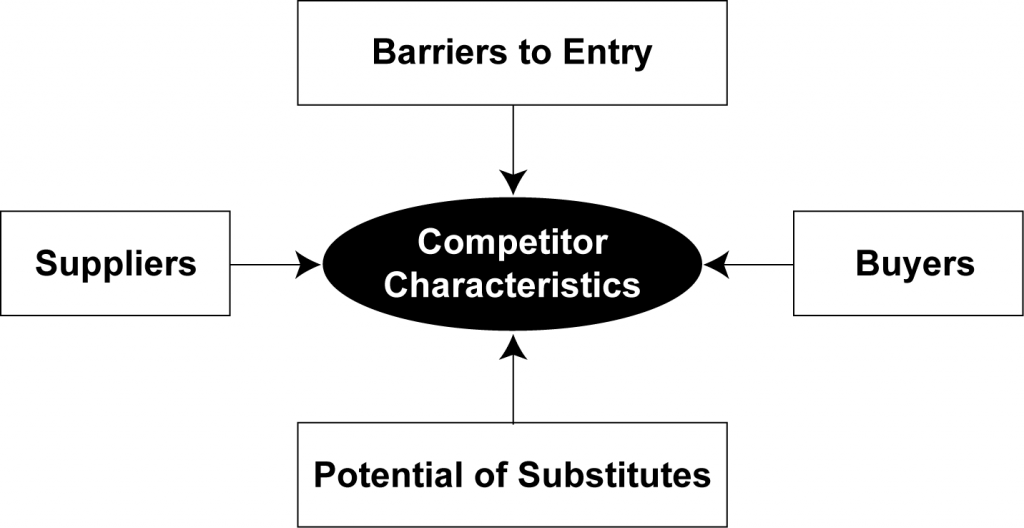 This article summarizes the key questions related to each competitive factor. At the end of the article, we provide a method that we have developed to create an overall competitiveness difficulty ranking for your industry.
Competitiveness Factor Questions
The Power of Suppliers
What is the nature of supplier concentration?
Are there unique inputs required in your business?
Are there significant costs of switching suppliers?
Is your business an unimportant or important customer group?
What is the relative size of your principal suppliers, compared to your business?
What is the cost of a supplier choosing to forward integrate into your industry?
The Power of Buyers
What is the relative concentration and scale of buyers compared to your business?
Are buyers primarily purchasing non-differentiated products?
What is the profitability of your buyers?
What is the significance of your product costs to their total costs?
What is your impact on buyer's quality?
What is the potential for buyers to integrate backwards?
The Barriers to New Entry
Does your business have an advantage as incumbent?
Does your branding offer an advantage?
Are the costs of new entry prohibitive?
What is the feasibility of new entrants establishing distribution channels?
Does your business operate with economies of scale that make new entrant's prospects daunting?
Are there regulatory hurdles and other government requirements that make new entries unlikely?
The Potential of Substitutes
Could new products be created that offer matching attributes of your offerings?
Are technology enhancements creating obsolescence?
Are there external trends in fashion or practices that could facilitate substitutes?
Are there any impending changes in end-use specifications?
Do regulatory requirements inhibit or promote the potential for substitutes?
Are economic forces creating the conditions to favor substitutes or retard their development?
Competitor Characteristics
What is the level of competitor concentration in your industry?
What are the competitor personalities in your industry?
What is the market growth being experienced in your industry?
What is the level of productive capacity vs productive potential?
How would you rate the cost structures in your industry?
Are there candidates for acquisition?
What are the top 3 competitors' strengths?
What are the top 3 competitors 'weaknesses?
Overall Competitiveness Rating
We have developed a "rough and ready" way to capture the relative level of difficulty of doing business within an industry. It is important to recognize that not all industries are facing the same levels of challenges or opportunities.
Competitiveness Factor
Importance on Competitiveness
Nature of Impact
Net Effect
Power of Suppliers
Power of Buyers
Barriers to Entry
Potential for Substitutes
Competitors
Overall
Importance on Competitiveness:
This reflects our judgment about how decisive each factor is on overall competitiveness in our industry:
If it is not important – assign 1 point
If it is important – assign 3 points
If it is very important – assign 9 points
Nature of Impact:
This reflects our judgment about how difficult or favorable these factors are on our business:
If on balance, it makes it difficult to do business – assign –1 point
If on balance, it makes it favorable to do business – assign +1 point
Net Effect
Multiply the Importance on Competitiveness by Nature of Impact. The Net Effect reflects the environment within our industry.
| – 45 | – 15 | 0 | +15 | +45 |
| --- | --- | --- | --- | --- |
| 'Nightmare' | 'Difficult' | 'Benign' | 'Unlimited' | 'Dream' |